氣候與穿著
Weather / Clothing
北海道對日本人來說是很受觀迎的觀光地。 近年來各個國家的人也會來北海道觀光。
Hokkaido is a popular tourist destination for Japanese people; and recently, a growing number of people from all over the world have discovered Hokkaido.

北海道的特徵之一,就是可以在各個季節時看到不同的景色。在北海道一年四季可享受不同的娛樂活動。
One of the features of Hokkaido is that each season has it's own scenery and landscapes. Every different season provides the chance for people try different food and activities.

除此之外,北海道在日本是以海產、農產品等美食而著名的地區。~日本的旅行社以及旅遊書籍所做的調查中,北海道是日本人想去的旅遊地首選的常勝軍。
Hokkaido is famous throughout Japan for it's delicious marine and land-based food and cuisine. According to research carried out by travel agencies, travel books and the travel industry, Hokkaido is ranked as the top destination that Japanese people would like to enjoy visiting and exploring.

我們認為當您拜訪北海道時,如果知道氣候、氣溫、穿著的資訊會很方便。
When you visit Hokkaido, information about weather, temperature and clothing is useful, as the weather conditions can vary greatly.

本頁介紹一般公開的北海道的氣候、氣溫等概要。另外我們會在Facebook頁面上發佈「現在北海道居民(札幌市市民)是穿怎麼樣的衣服」。只要在我們的facebook頁面上按「讚」,就可感受到北海道季節的每日變化。
Here we introduce an outline of weather and temperatures in Hokkaido on a graph. Also, on our Facebook page, we deliver information of what clothes Hokkaido (Sapporo especially) people wear now. Just push the "Like" button and experience the everyday changes of seasons.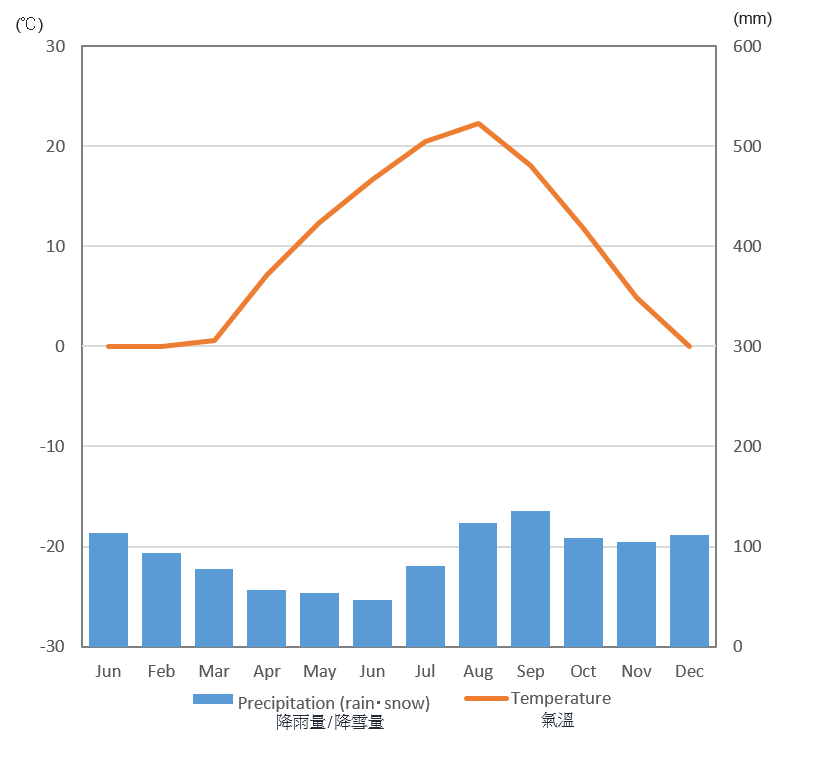 在釧路市等靠近太平洋的地區,即使是在冬天降雪量也很少。但是在北海道的最大都市札幌市積雪量則很多,濃霧則常常在6、7月時,特別是靠近太平洋的地區中出現。
In the area near the Pacific Ocean surrounding Kushiro City, they have little snow in winter. Sapporo City, the biggest city in Hokkaido, however, has a lot of snow in winter. Thick fog is often seen in the area near the Pacific Ocean especially in June and July.
*便利小物清單(版本1.0)
來北海道前有依季節搭配適合的服裝了嗎? 可下載此清單。
*List of useful goods (version 1.0)
Have you prepared clothes suitable for the season when you are coming to Hokkaido? You can download the list and check.